We updated Bitly's navigation menu in September, 2022!
If you're used to the old look, check out the changes.
UTM parameters are bits of information added at the end of a URL that can help you understand the visitors on your site. Of course, when you place them at the end of an unshortened link, they make the link even longer. For example:
https://www.bitlyproductsrock.com?utm_source=newsletter&utm_medium=email&utm_campaign=50percent-apr21
You can find out more about UTM parameters on this help center article.
To add UTM parameters to you link you will want to perform the following steps.
1) Log into your Bitly account
2) Select create link from the drop down

3) Add you destination URL where prompted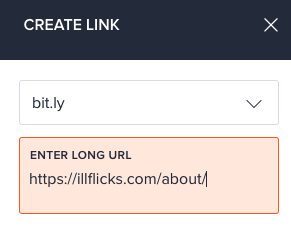 4) Begin to add your UTM parameters starting with Source

utm_source: Where is the traffic coming from? This is the specific place where people are seeing your link.
5) Next add you the UTM parameter for Medium

utm_medium: How is the link served up to people? Think of this as the delivery method or communication channel for the link. It is the most general value in your UTMs.
6) The final parameter to be added is the one for Campaign

utm_campaign: What's the "topic" you're driving people to? This describes what you're promoting and is more specific than source and medium. It might be a product you're selling, a blog post topic that will attract people to your site, an event you're promoting... the possibilities are endless.
Once you have added the destination URL and have added the UTM parameters and created your link, you will see that the parameters you selected have been added to the end of your destination URL.