Check these troubleshooting items for some common issues with domain verification.
Keep these things in mind as you choose and set up a custom domain:

The domain for your short links must be different than your website domain.
It can't be more than 32 characters long, including the dot.
If you haven't added one yet, Bitly offers a complimentary domain. However, if you add your own domain, you won't be able to redeem this offer later.
Use two different domains for links and your website
Make sure you are utilizing a new domain or subdomain to link to your Bitly account and not your existing website. The reason for this is that multiple IP addresses within the DNS record will direct all traffic from your website to a Bitly landing page.
For example, these are ESPN's website domain and domain for short links:
Website: www.espn.com
Short links: es.pn
Bitly complimentary domain
If you have just redeemed a complimentary domain through Bitly and you receive a verification failed status, please allow up to 24 hours for the settings to verify and attach to your account. You can also remove the domain from your account and re-add it to verify.
Your own custom domain
If you are adding a domain you own from an external host, you will want to ensure your DNS record includes the following settings in order to point to Bitly: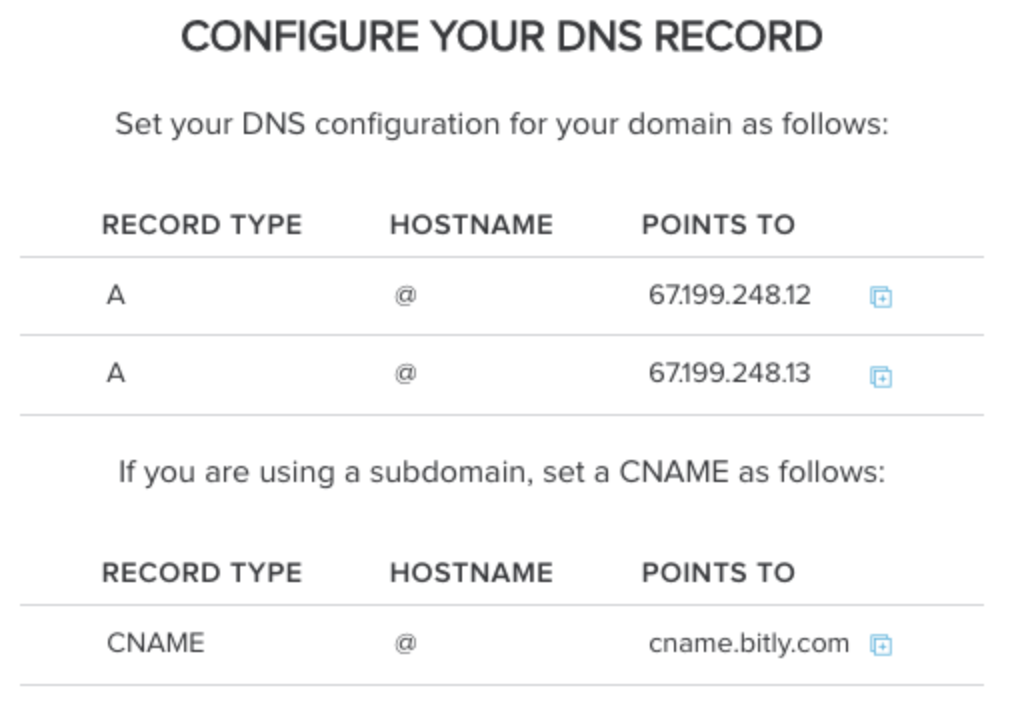 Feel free to also check out our step-by-step guide on configuring your custom domain.
Checking your IP address setup
After you have configured your custom domain and are unsure if it is correctly pointing to Bitly, we recommend heading over to whatsmydns.net and pasting your domain name in the search bar. The search return will immediately let you know what IP addresses are active in your DNS record. If there are other IP addresses in addition to the Bitly addresses listed above, you will need to edit your record and remove these IP addresses.

Once your record had been edited and is successfully pointing to Bitly (and no other IP addresses) you can head back to your account, remove your domain and re-attach. It should then verify right away and you can get started creating custom links!