If you've already purchased a custom domain and would like to add your domain to your Bitly account, you will first need to configure your DNS settings.
Your Custom Domain must be 32 characters or less, including the dot.
Setting your DNS Settings to Bitly's IP
The Domain Name System (DNS) is what allows a web browser to translate a domain to a website. You will need to tell DNS that your custom domain now should point to Bitly.
The way you update DNS varies depending on your domain registrar. In general, the process goes something like this:
Log into your domain registrar's website.

Select the Custom Domain you want to modify.

Find the section for managing DNS entries. The name of this section varies, but is usually something like DNS Configuration, DNS Records, or Advanced DNS. Links to instructions for popular hosting providers can be found

here

.
Depending on whether you are setting up a domain or subdomain your next steps will vary.
For a domain:
Edit the existing A Records for your site and change the IP addresses to 67.199.248.12 and 67.199.248.13. If there is one or no existing A Record, add new ones.
Edit the A Record's Hostname to the character "@" or your base domain (both mean the same thing). If you have additional A Records pointing to other IP addresses, remove all others and leave only the ones pointing to Bitly's IP addresses.
For a subdomain (such as on.wsj.com):
Edit the existing CNAME Record for that subdomain to point to cname.bitly.com. When entering your subdomain, enter only the portion before the first dot. For example, with 'on.wsj.com' you would just type in 'on'.
Note: In your DNS, you can also add a 'www' entry for your domain name, which you will point to 'cname.bitly.com'. For example, if your Custom Domain was 'fred.me' you'd point your CNAME Record for 'www.fred.me' to 'cname.bitly.com.'
Ex: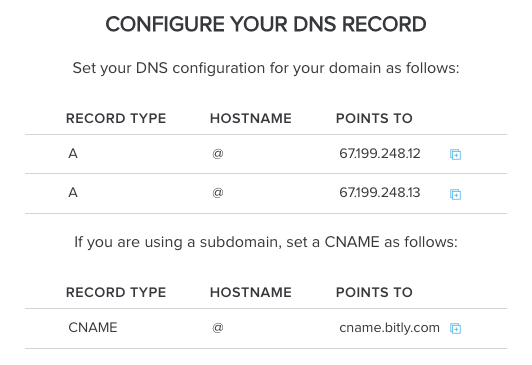 --------------------------------------------------------------------------------------------------------------
Now, once you've configured your DNS settings and you've ensured that the correct A records have been created, you are now ready to link your Custom Domain to your Bitly account.
Please log into your Bitly account and click on the Groups button.


Then click on "Manage" to access your Account Details page. Once there, please click on "Custom Domains".


Once you've clicked on "Custom Domains" there is an option to "Add Custom Domain", this button is located on the top right hand corner of the page.


Once you've clicked this button, you will see a pop-up appear with the options to "Add Domain" or "Purchase Domain", please click on "Add Domain".

If this is your first custom domain in Bitly, you can get a free domain--up to $30--by clicking Purchase Domain.

Once you've clicked on "Add Domain" you will see a menu panel open, there you will be able to type in your domain in step 3 - Enter Your Custom Domain. Type it in and click on "Verify Domain".



Once you've clicked on "Verify Domain", you will be directed back to the "Custom Domain" page, where it will show you the status of your custom domain.

Once your domain shows "Verified", you're good to go! 
Please note it can take up to 24 hours for domain changes to propagate.