Domo is an analytics platform that brings in your data from various sources and lets you create and share reports. If you use multiple tools to manage your marketing efforts, you'll be able to view metrics from all your accounts in one place.
Why should I enable this integration?
Domo provides a connector to create Domo DataSets from your Bitly data. Domo will import your Bitly data on a schedule that you define, and you can then generate reports with your link statistics. You'll have access to all the metrics you see in Bitly.
If you are creating DataSets based on the performance of specific Bitly links. Be sure to have a list of those links at hand; you'll need those when you set up your data.
Who can set this up?
Anyone with a Domo account and a Bitly login.
While we are happy to help you with Bitly troubleshooting, like verifying your rate limits, Domo built this integration and has more information on their help site.
How do I connect Domo to Bitly?
Log in to Domo.
Click the Add to Domo + icon.
Click Data.

Click Cloud App.

Search for Bitly and click CONNECT.

Click GET THE DATA.

Click CONNECT.

Enter your Bitly credentials, select the group you'd like to get data from, and click Allow. You will now be able to pull link data from Bitly into Domo.

Click Next.

In the Details section, select the report type you would like to create a Domo DataSet for. This will be the Bitly data you'll use to create reports in Domo.

Enter the details for the data you want to import from Bitly. For some data, you will enter the full URL for one or more Bitly links.
Click Next.

Select how often you would like Domo to import the Bitly data.
Click Next.

Enter a name for the DataSet.
Click Save.

Now you'll be able to create and share reports and visualizations based on this DataSet.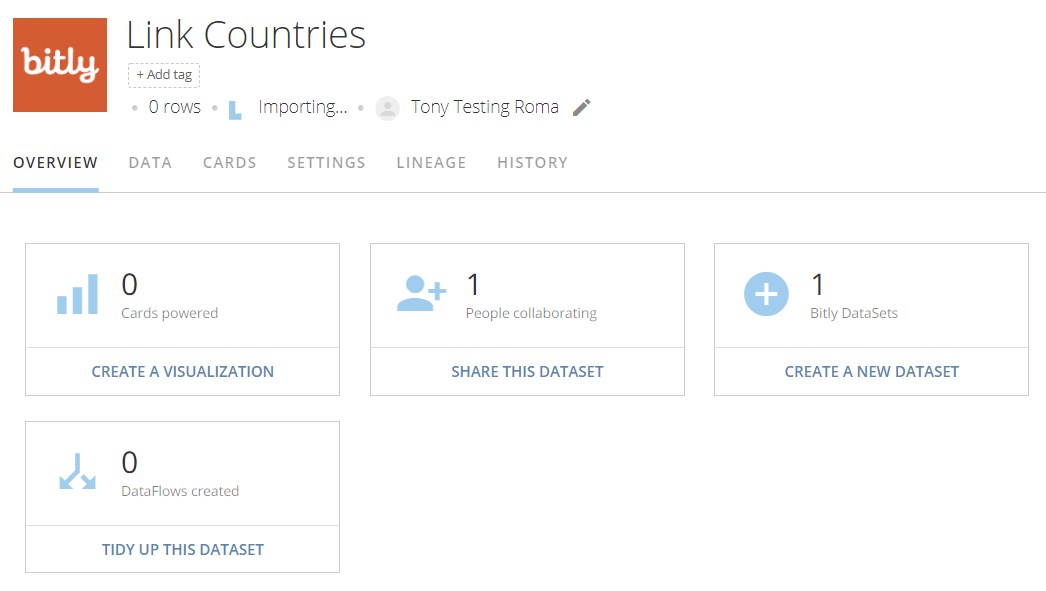 For more details and the latest information on setting up the connection, see Domo's article Adding a DataSet Using a Data Connector.