What is Hootsuite?
Hootsuite is a social media platform to manage your social network presence and measure the impact of your campaigns. With Hootsuite, you can manage content, schedule posts, and track your campaigns through reports.
Why should I enable this integration?
Activating the integration will add a Bitly selection to your link shortener options when creating a post in Composer.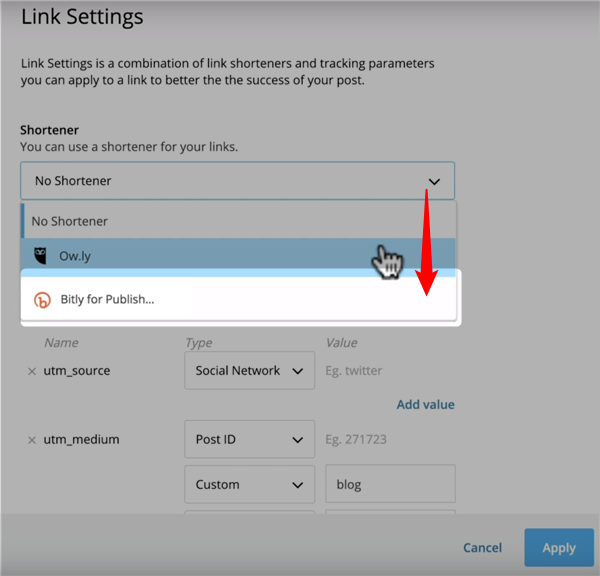 Your admin can also create link presets that will automatically apply the Bitly link shortener for everyone in your organization. While your posts will be managed in Hootsuite, your link metrics can remain in Bitly.
Contact your Hootsuite customer success manager to ask about having external shorteners enabled in your account.
Who can set this up?
Hootsuite organization admins and super admins with a Bitly account login.
Adding an external link shortener is available with Hootsuite's Enterprise plan, and you'll need to contact your HootSuite customer service manager to activate. Check Hootsuite's documentation for the latest permissions and plan requirements.
How do I connect Hootsuite to Bitly?
Click your profile picture and select Manage under your organization name.
Click Link Settings under the organization name.

Select Bit.ly. If you don't see the link shortener options, contact your Hootsuite customer success manager to enable them.
Click Authorize. If you have multiple Bitly Groups, the default domain for the one you choose will be used to shorten your links. Keep that in mind if you ever need to change the default.

Enter a name for the shortener (we recommend matching this to the branded shortener).
Click Add new shortener.
Sign in to your Bitly account and authorize the connection to Hootsuite.
Bitly will now appear in your organization's list of shorteners and in the Composer.
See Hootsuite's documentation for more options, such as creating link presets that will automatically apply to all your users.