Custom links (aka custom branded links) include your custom domain at the beginning of the link as well as your own custom keywords at the end of the link.
Link Type

Example

Bitly short link

  http://bit.ly/2HEw34u

Short link with a custom back-half

  http://bit.ly/planatopia

Branded Link

  https://romawrites.me/2YBfVHR

Custom Link
(aka Custom Branded Link) 
  http://romawrites.me/free_FAQ 
In addition to including your brand and specific keywords, target pages of custom links can be changed -- or redirected -- once a month or more, depending on your subscription plan.
The option to redirect or change the target URL for a link is available in the Custom Bitlinks Section of the platform. This premium feature allows you to change the target URL while keeping the same branded link. 
You can redirect a link by clicking the "Redirect" button underneath the link. A side panel will appear and prompt you to enter the new target URL.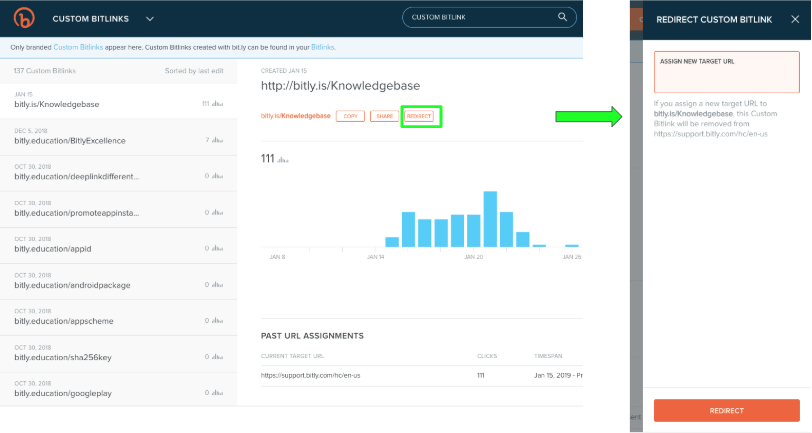 You will also be able to see the redirect history of that link, including the current target URL, the number of clicks that link received and the timespan the target URL was active. 


If you do not see this functionality within your Bitly platform it means you don't have access to this feature. If you are interested in upgrading to Bitly Enterprise please contact us about our Enterprise account.