Bitly users are organized within accounts and groups, which you'll see listed when you click the group selector in the profile menu. Permissions levels are based on these groups.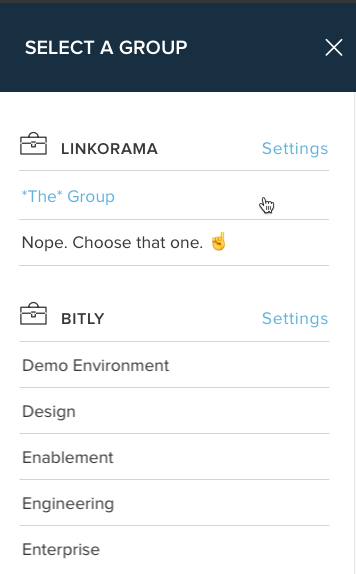 There are three different permission levels within your Bitly account:
Users can create links, edit links, and view data within the group they've been added to.
Group Admins can do the above, and manage permissions for particular groups—including managing a group's users and custom domains—without access to account-level settings.
Account Admins have universal access to all your company's account and group settings. They will manage users, groups, custom domains, apps, integrations, and all other settings.
A user can have different permissions in different groups and different permissions in separate Bitly accounts. Permissions can only be updated by a Group or Account Admin.
For information on how to edit and update permissions read How to assign user permissions.